I believe you must have seen many acrylic boxes in your daily life, right? They may be sealed display boxes, or they may be storage boxes with multiple shelves. You can click here to view the blog post about these boxes. We have introduced many cute boxes. You can even understand why acrylic boxes are used.
So, I don't know if you have considered, in fact, you can DIY a small acrylic box that is exclusive to you?
Yes, in this blog, we will teach you how to diy, so let's get started!
How do you DIY acrylic box?
First of all, the first thing, of course, is the preparation. To make an acrylic box, you need to prepare:
Acrylic board
Utility knife
Ruler
Superglue
Cutting board
Marker pen
Ok, then the second step is to cut the acrylic sheet. Regarding how to cut, you have to make a plan. According to the size of the box, you want to make, use a ruler to measure and then confirm the size of the material you need. You can draw the line with a marker, and then the cutting step. The acrylic board required for the general desktop mini box is not too big, so you only need to put the acrylic board on a flat table and use a utility knife to carefully cut along the line. Cutting is very difficult. The process, if you can cut very beautifully, will be very fulfilling.
If you need to cut a large acrylic sheet, then you can find more suitable cutting methods by reading this blog.
Since we are going to DIY Acrylic Box, if it is for display, then six acrylic plates are needed, if it is just a storage box, only five. After everything is ready, the boards are glued together. That is, super glue is glued on the joint of the two acrylic plates, and then they are spliced together. By the way, before gluing, don't forget to make a small cleaning for the acrylic sheet, which is much more convenient than waiting for the box to be ready before cleaning.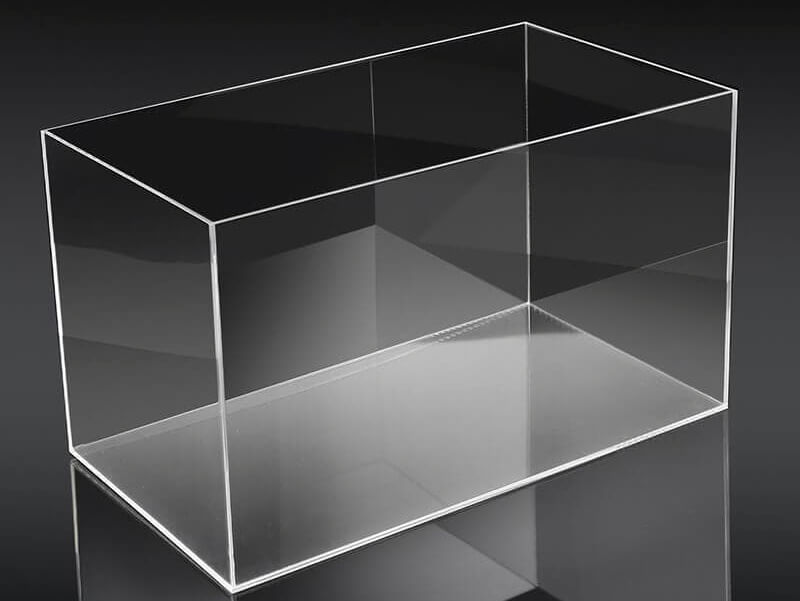 How do you make a homemade display box?
If you still want to make an advanced display box, the number of acrylic panels to be prepared must be six, and you must pay attention not to completely seal one side, and make a door-like design so that you can open the cabinet at any time Products on display.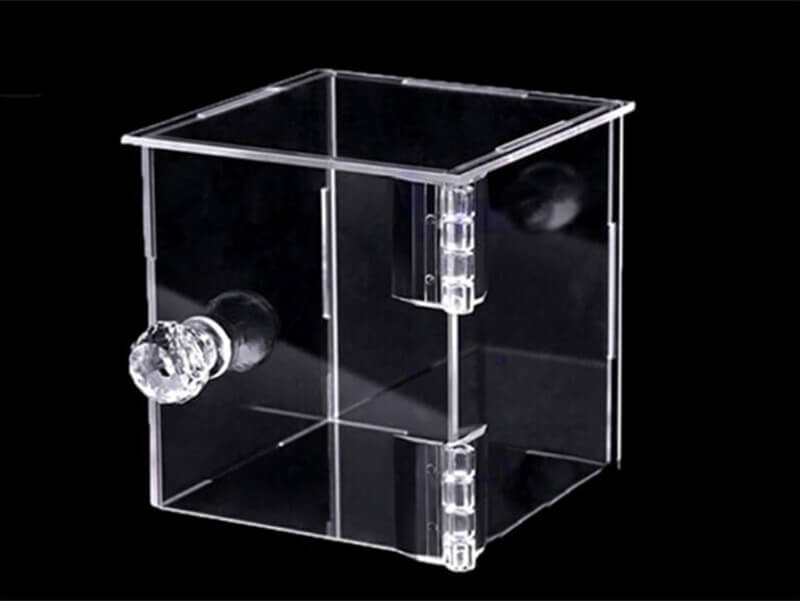 How do you glue an acrylic box?
The process of bonding acrylic is slightly different from the process of bonding other substances such as paper or wood. Acrylic cement is different from simple adhesives in that it produces a chemical reaction to physically bond or weld plastics. Although it sounds complicated, the process can be very simple. As long as you are safe, cautious, and patient. All you have to do is prepare and wait.
First of all, you must remember to find a clean and quiet environment, because this kind of needs to calm down. By the way, pay attention to protective measures. The glue may also stick your fingers.
Check the edges of the acrylic. Make sure that the frame of the acrylic to be added is flat and has no bumps. The test in this step is your cutting skills. Make sure that all surfaces that are bonded together are sanded and not shiny, because very smooth surfaces are difficult to bond together.
Prepare acrylic cement/glue. The most common acrylic glue is solvent-based glue, such as Weld-On 4, which sells for less than $15 on Amazon. The glue should also come with its own applicator bottle and needle. When using, simply fill the applicator bottle through a funnel until the bottle is about 75% full.
Then apply the glue and squeeze the bottle with moderate pressure as it moves along the edge of the connection. Do not let the acrylic adhesive come into contact with any acrylic adhesive blocks that you do not want to glue. Be careful.
Conclusion
I think everyone likes to do some manual work. It is a good choice to make a small acrylic storage box, and it is not difficult. Of course, if you don't have time for DIY, or if you want a special box, please feel free to contact us.
UVACRYLIC is a leading manufacturer of plexiglass sheets in China, meantime, we provide custom acrylic according to the client's requirement. The parent company is UVPLASTIC, which is the top manufacturer of polycarbonate sheets.
If you have any questions during the production process, you can ask us for help. Remember, pay attention to safety during the operation.