How to bend acrylic sheets?
Ultimate Guide
Acrylic sheets can be bent, and this property provides a wealth of possibilities for the production of our different products. It also does not change color because we bend it, and has high stability. In daily life, you may want to bend a piece of acrylic, for example, to make a mobile phone holder, so in this article, we provide some important tips and tricks for bending acrylic sheets.
And, bending the acrylic board, as long as you make careful preparations, is as simple as bending a piece of bread, but even so, there are some problems we must pay attention to:
1. Before bending the acrylic, you need to cut acrylic to a size and tear off the two layers of the acrylic protective film. If there is any difficulty in removing the acrylic film, you can check this blog post, which contains a detailed method analysis.
2. In the heating process, please pay attention to your temperature at all times, too high a temperature will damage your acrylic products and make them melt.
3. Before using the tool, be sure to take protective measures to avoid injury.
Now, ready? Let's start!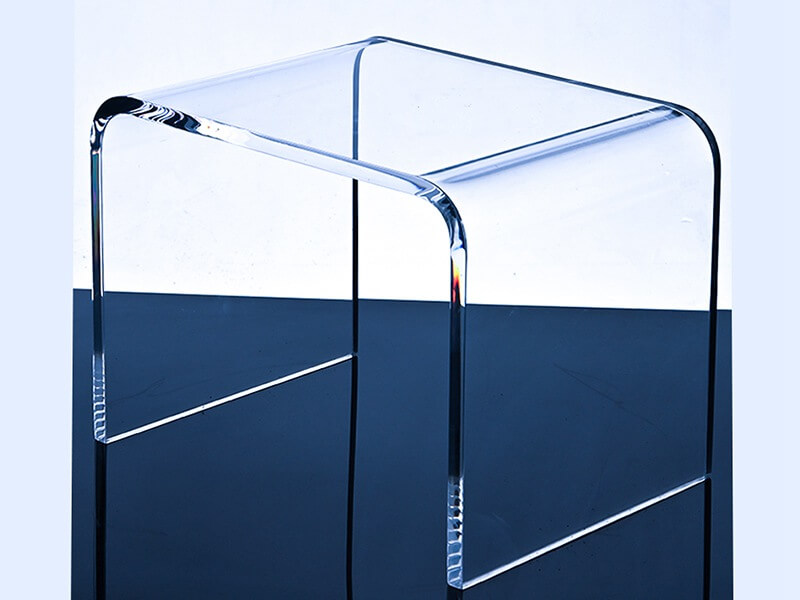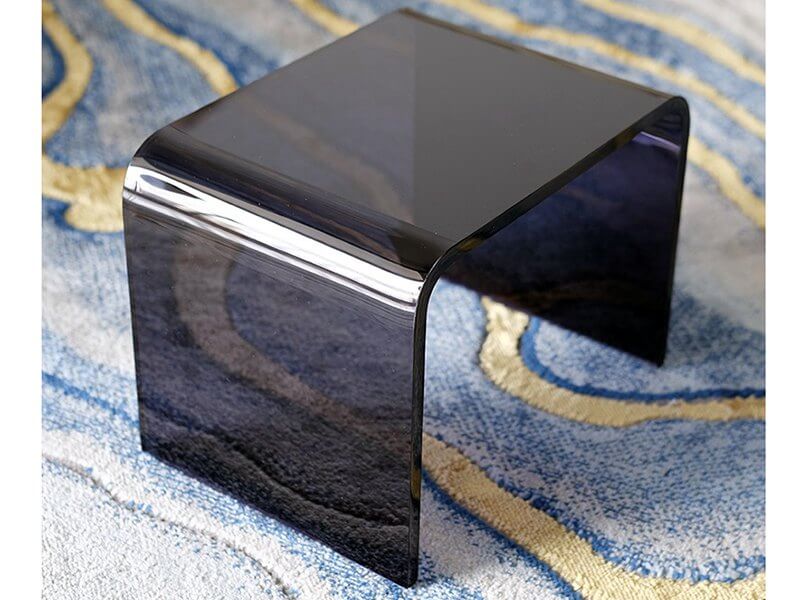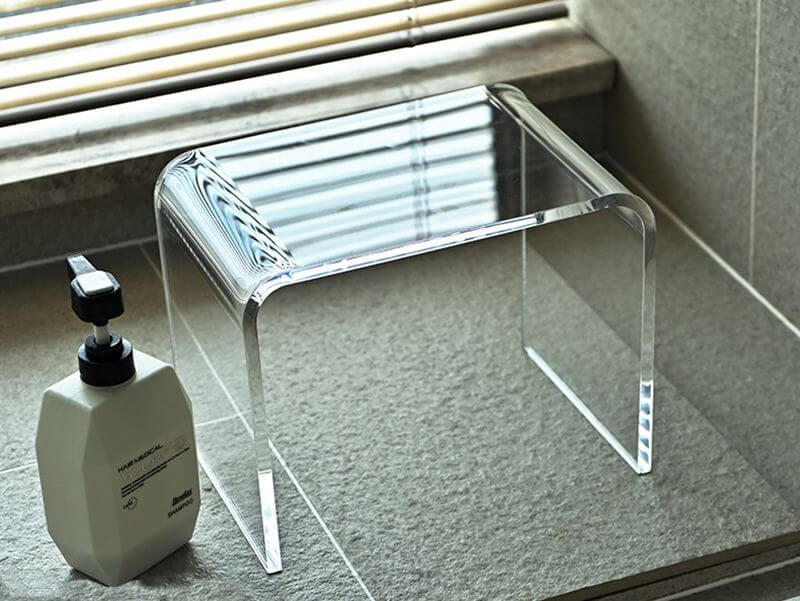 How To Bend Acrylic Sheet With Hairdryer
If your side of the tool is limited, then I think you can get the fastest equipment should be is this – a hairdryer, you can try using a hairdryer to bend the acrylic panels.
First of all, the first point, remember to take off the protective film on the acrylic, this must not be forgotten;
For the part to be bent, you can use an erasable pen to make a mark, such as drawing a straight line;
If you don't want to be heated but unavoidable, you can cover it with a damp cloth. Slowly move the hairdryer along the mark just made, and ensure that the heating is even until it is in the necessary flexible state. During the heating process, please flow out Keep a distance of at least 5 cm between the hole and the surface of the acrylic plate;
From time to time, gently pull the edge of the plexiglass sheet to check its flexibility.
After bending the acrylic sheet, confirm that there is nothing wrong with the shape. You need to wait patiently for it to harden again. Do not move it until it is completely hardened.
It seems simple, right?
How to bend acrylic sheet with a heat gun
If you can find tools such as a hot air gun that could not be better, which is significantly better than a hairdryer.
Before officially starting, we need to do some preparations, these are the tools you may need to use:
A heat gun, which is an electrical tool that heats and softens a variety of materials
Scrap wood
A vise and clamps
Chinagraph pencil, also known as a grease pencil, or permanent marker
First of all, the first point, remember to tear off the protective film, and take protective measures yourself;
Then determine what you want the acrylic plate to bend into. This requires you to plan the position of the curvature, then you may need to perform some careful calculations, it does not matter, you can spend more time;
Place the acrylic board between two pieces of waste wood and fix it with clamps, vise, and other tools;
Start the heat gun to bend the acrylic, heating is a slow process, please be patient;
If you need to bend multiple times, please do it after the previous bend has cooled down. This will be very helpful to you and will not lose the first bend.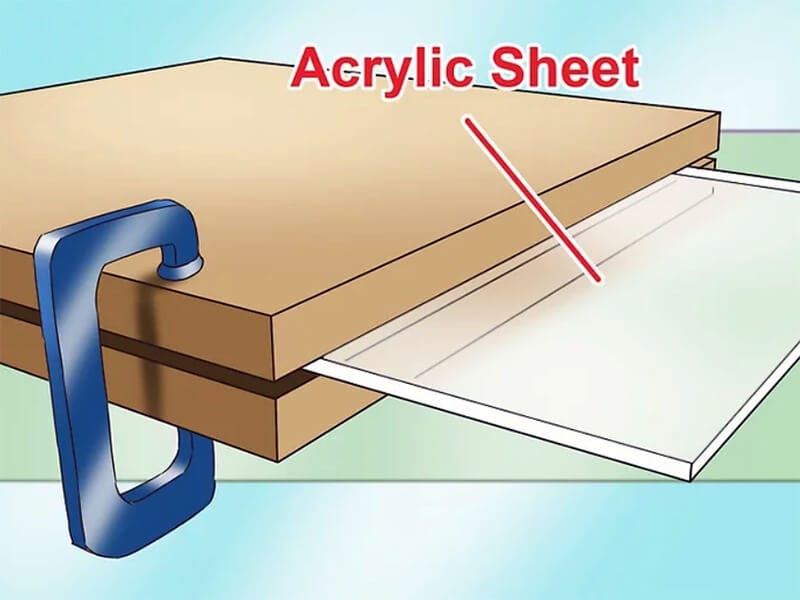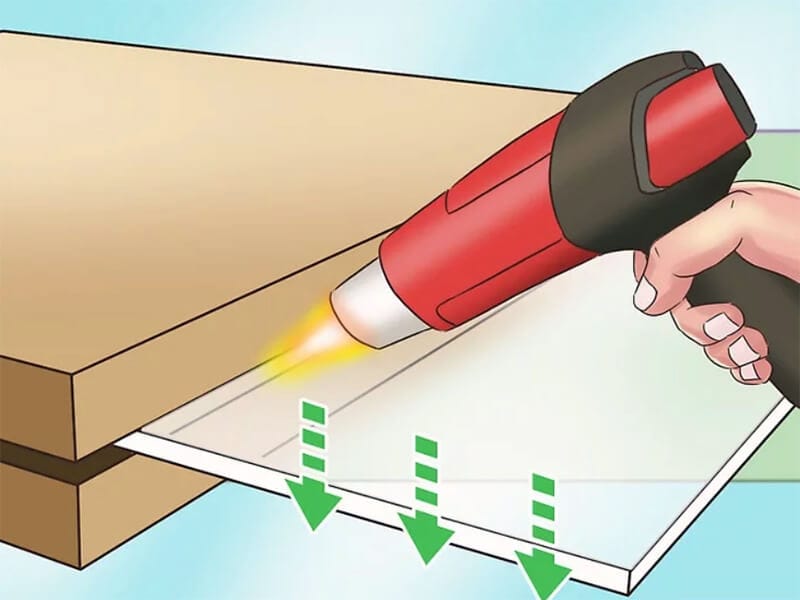 How to bend acrylic sheet into a tube
Sometimes you may also need some tubular utensils. At this time, you will be faced with the need to bend the acrylic sheet into a tube. How do you do this?
Some professional techniques are needed here, You need to prepare:
Filament or resistance wire
A heating plate
Acrylic glue and applicator
The first step, remember to remove the acrylic film! If you use a high-temperature film, you don't remove it. You need to place the acrylic sheet over a long, thin filament with the bend line positioned precisely above the wire. When you heat acrylic to 160 degrees Celsius, it becomes soft and bends easily. It's advisable to proceed with care. Bend the acrylic slowly and gently to avoid tearing the material on the exterior of the fold. After bending, heat the acrylic on the outside of the fold line briefly to seal it properly. Then allow the perspex to cool and become fixed in the chosen shape or position. Once cooled, the perspex retains its new shape permanently.
Of course, you can use some props to help you better your plasticity, such as a wine bottle. After the bending is completed, apply acrylic glue to seal it. The acrylic glue needs to solidify for at least five minutes.
Okay, if you don't want to be so troublesome, you can directly choose the appropriate acrylic tube to buy, which is available in our mall. You can inform us of any requirements regarding the size of the material, and your inquiry is always welcome.
Here, maybe, you can to know more information about machining custom acrylic and bending acrylic tubes.
Conclusion
Bending acrylic is not difficult but requires patience. During this process, you may be very tired, so remember to take a break. Acrylic can realize your many ingenious ideas, if you need help in the process of bending acrylic, please feel free to contact us. So, now about what kind of acrylic it is bent into, do you have any custom ideas, hurry up and tell us!
UVACRYLIC is a leading supplier of acrylic sheets, acrylic rods, acrylic tubes, In the meantime, provides custom acrylic to global clients. The parent company is UVPLASTIC, which is a leading manufacturer of polycarbonate sheets, and provides machining polycarbonate service.
About UVACRYLIC
UVACRYLIC is a 100% subsidiary of UVPLASTIC, which is a global company in the engineering plastic field, including polycarbonate sheet.
UVACRYLIC is a leading manufacturer of acrylic sheets in China, the main business is to provide acrylic-based products, including acrylic sheets, acrylic films, acrylic rods, acrylic tubes, and machining acrylic services.
Related Products and Services
Related Blogs